Despite what logic might have told us, the two years following the COVID-19 pandemic had record-low numbers of personal bankruptcy filings. As people tightened their purse strings and relied on government and charity programs to make it through difficult times, fewer families needed the help of the bankruptcy court.
However, the trend has turned around in 2022 – and looks likely to continue doing so in the years to come. Here's how the continuing fallout from the coronavirus pandemic has made for a personal bankruptcy rebound:
The Impact of COVID-19 on Personal Bankruptcy
When the COVID-19 pandemic was declared a global crisis, many experts agreed that it would have severe and lasting impacts on the economy of the United States and the entire globe. As such, many bankruptcy attorneys braced for an onslaught of people needing guidance as their personal finances were strained.
However, this was not the case in many areas.
In fact, a noticeable lull in personal bankruptcy filings occurred during the years of 2020 and 2021. There was good reason for this though, as many public and private programs existed during this time to assist families financially during layoffs, pay cuts, and other problems that directly resulted from the pandemic.
This surge in financial assistance programs was everywhere, from local food pantries doubling their efforts to keep people fed to community programs offering help with childcare and entertainment for children so parents could work. This rallying of community support was something that helped keep people employed and their needs met – but it could only last as long as funding and participation did.
An Economic Assist that Could Not Last Forever
During the height of the pandemic, many government programs – both state and local – were created to help consumers and corporations alike. These programs were focused on providing short-term assistance to get the nation through the worst of the economic impacts of the pandemic. They were never meant to continue beyond that point.
The problem is, no one truly understood how long that period would last or what the ongoing impact of the pandemic would be on the American people.
Now, in 2022, those impacts are more evident. It is now obvious that many of these programs acted more like a bandage on a broken leg than the lifeline that they were originally designed to be.
After nearly two years, most programs dedicated to helping people survive the pandemic have run their course. The funds allocated for these programs have been spent and more federal funding is not available. As such, the assistance that kept many people from needing to file for bankruptcy during the pandemic is gone – and bankruptcy numbers are on the rise as a result.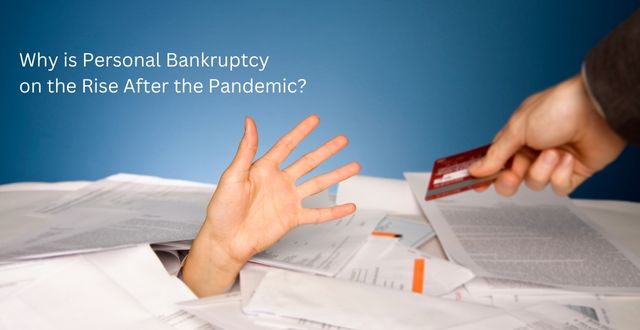 Families are Left Without Help as Financial Fallout Continues
Now that these programs have lost their primary sources of funding, so have many struggling families in the Chicago area and all over the United States. While these families were able to weather the storm of the pandemic for nearly two years, it can become exhausting for anyone to stay in this kind of financial "fight or flight mode" for so long.
Eventually, borrowing against one line of credit to pay down another was the only way many of the families could remain afloat.
This is why a surge in personal bankruptcy filings has been seen in 2022 – and will likely continue to be seen in the years to come. Families exhausted by the ups and downs of the pandemic are looking for a fresh start and financial stability. If that sounds like you, personal bankruptcy could be what you need to make it happen.
Get the Help You Need Navigating Personal Bankruptcy in Chicago
If you are considering personal bankruptcy in the Chicago area, you are not alone. Millions of families all over the United States have grappled with this difficult decision in recent months.
Thankfully, you do not have to navigate the process alone.
Contact the experienced team at the Law Offices of David M. Siegel. Our team of Chicago area bankruptcy professionals can help you make sense of the process of filing, better understand your rights, and get the results you are hoping for. No matter what your reason for choosing bankruptcy, let us help you make it the positive path forward you need it to be. Give us a call today to learn how!