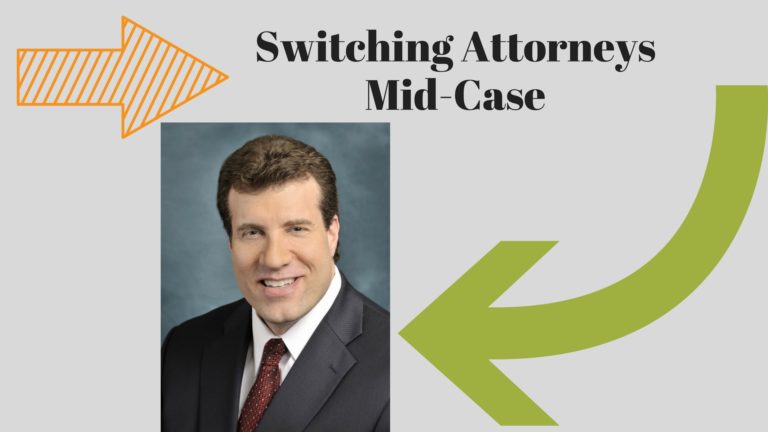 While it is possible to change bankruptcy attorneys in the middle of the case, it often will not make a difference in the outcome of the case. The relationship between a client and a bankruptcy attorney is one of trust, confidence, respect, diligence and communication. If there is a breakdown in any one or more of these areas, then it may be wise to make a change as to attorney. However, clients often want to make a change because they are seeking either alternative advice or a different result. In these cases, it may make sense to stick with the attorney that you hired originally.
In recent chapter 13 case which was confirmed and well underway for the past two or three years, the thought of converting to chapter 7 was raised. The client was quoted a fee to convert, given instructions on what was needed and then proceeded to hire another attorney to handle the conversion. This other bankruptcy attorney converted the case, subsequently brought a motion to substitute in, and the case proceeded without incident. The only difference in the situation between attorneys was the price quoted to convert.  The debtor may have saved a few dollars by switching attorneys.  That was likely the sole benefit.
In other cases, such as a confirmed chapter 13 bankruptcy case with no issues pending, it makes little or no sense to switch attorneys. After all, the chapter 13 case is proceeding post-confirmation without incident. There is no reason to hire another attorney and be subject to a second or partial attorney fee for the new counsel. In those cases, it is much better to accept the attorney that you have with the case in place, in progress and proceeding smoothly. In rare situations, we do see someone who wants to switch from a prior attorney and hire my law firm although the case is proceeding accordingly. In those cases, we will advise the prospect to stick with the attorney that brought him to that point.  There simply is no benefit to the debtor to switch attorneys at that point.
There are circumstances where it does make sense to switch bankruptcy attorneys mid-case. This is true if the attorney is not performing pursuant to the contract or otherwise not doing what is necessary within the bankruptcy case. For example, there may be a judgment lien that needs to be removed on a homestead. If the attorney is reluctant to do so, then the lien will remain despite the bankruptcy filing. In those cases, it makes perfect sense to find alternative attorneys who can bring the proper motion so that the lien could be removed going forward. There are other examples, specifically in chapter 13 bankruptcy cases, where the attorney has to bring appropriate motions to her credit, to defer the default, or otherwise petition the court for some sort of relief. If the attorney is unavailable or unwilling to do so, then it makes excellent sense to find an attorney who can bring the proper motion.
In general, changing bankruptcy attorneys is not necessary and will not make a big difference in the case. However, in some circumstances, it does make good sense if the current attorney is not doing his or her job properly. For more information on if, when, and how to change bankruptcy attorneys, you may contact my office at 847-520-8100. As this article demonstrates, it is often better to stick with the attorney that you have already, provided he or she is performing properly and ethically under the bankruptcy code.