Booted, Repossessed, Impounded
Other than death, divorce and job loss, there is nothing worse than heading out to your car only to find out that it has been either booted, repossessed or impounded. If you find yourself in such a situation, you still have options to retrieve your car. The remedy is chapter 13 bankruptcy which allows for you to recover your car and repay whomever you owe on that vehicle over a period of 3 to 5 years. This is typically done at a lower monthly rate than what you may currently be under contract to pay.
Parking Ticket Debt
Let's examine the situation where the car is impounded. If you owe the City of Chicago more than two outstanding parking tickets, then you are on what is known as the "boot list". If your car gets booted, you have merely 24 hours to pay up and have the boot removed. If the city does not receive its money, a partial amount or a payment plan instituted, they will then impound the vehicle and move it to a city owned yard. From that point, it becomes much more difficult and much more expensive to recover your vehicle. However, you have the ultimate weapon in your arsenal: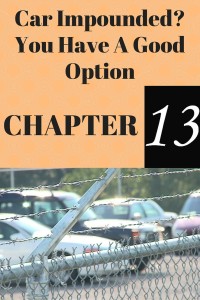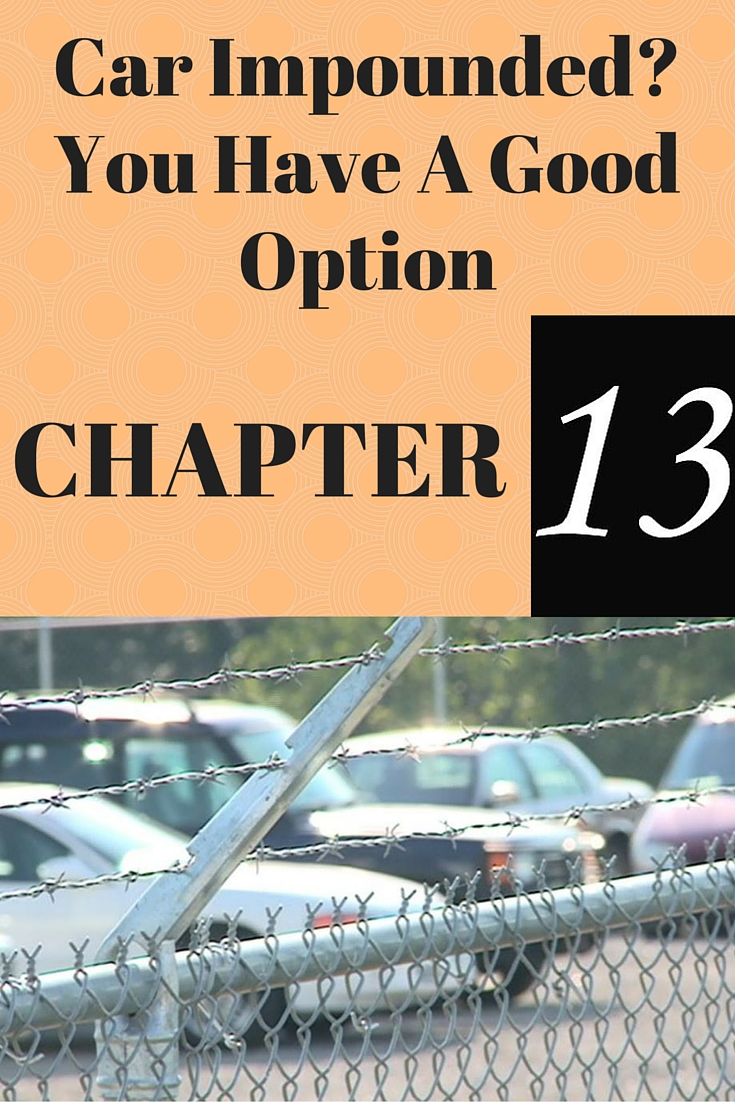 chapter 13.
10% Payback Is Common
Chapter 13 will allow you to pay as little as 10% or so of the outstanding parking ticket debt owed to the city of Chicago. Depending upon how much a person owes to the city, this amount can be substantial. I have seen clients who owe over $20,000 to the city of Chicago by way of parking tickets. These clients have been able to recover their vehicles, remain off of the boot list while they're in the chapter 13 and then pay as little as $1000 or $2000 over a three-year period. This type of relief is incredible. The person gets the car back, stays off the boot list while they're on the payment plan and agree to pay 10% of the debt owed for the parking tickets over a 36 month period. How helpful is the federal law when it comes to chapter 13 bankruptcy? Most of my clients would tell you that it is nothing short of life saving.
Finance Default
What about a situation where you do not owe the city Chicago for parking tickets but you just simply couldn't make your car payment on time due to some unexpected occurrence. If you do not have the ability to catch up on your auto financing on your own, you can reorganize the debt owed on your vehicle through a chapter 13 bankruptcy filing. Imagine a situation where you have $20,000 left to pay on your vehicle, yet you have fallen behind. You may have been good for the first two or three years making a monthly payment of $450, however now you are in a financial bind and cannot make that regular payment. Further, the finance company repossessed the car and they're holding it hostage unless you can bring your account 100% current. Instead of going that route, you go the chapter 13 route. You agree to repay the $20,000 owed on your car over the next 60 months. You have now significantly reduced the amount that you're going to pay per month from $450 to about $350 and you're going to be able to recover that vehicle. The landmark decision known as Thompson stands for the proposition that you own that vehicle until such time that it is sold at an auction. Since the finance company has not yet sold the vehicle at auction, you have the right to possess that vehicle upon filing chapter 13.
Call For Help
So if you're behind on your auto, please know that you have options which were put in place by the federal government to help you. These laws help you keep your property, they help keep you off the boot list and in many cases will allow you to pay back less than what was originally owed over a 3 to 5 year period. For more information on chapter 13 and how you can be helped, you can contact my office directly at 847-520-8100. My friendly staff and exceptional attorneys will guide you through the process. You can then make an educated decision on whether or not you want to reorganize your debt and whether or not you want to resolve your debt with the city under federal bankruptcy laws.